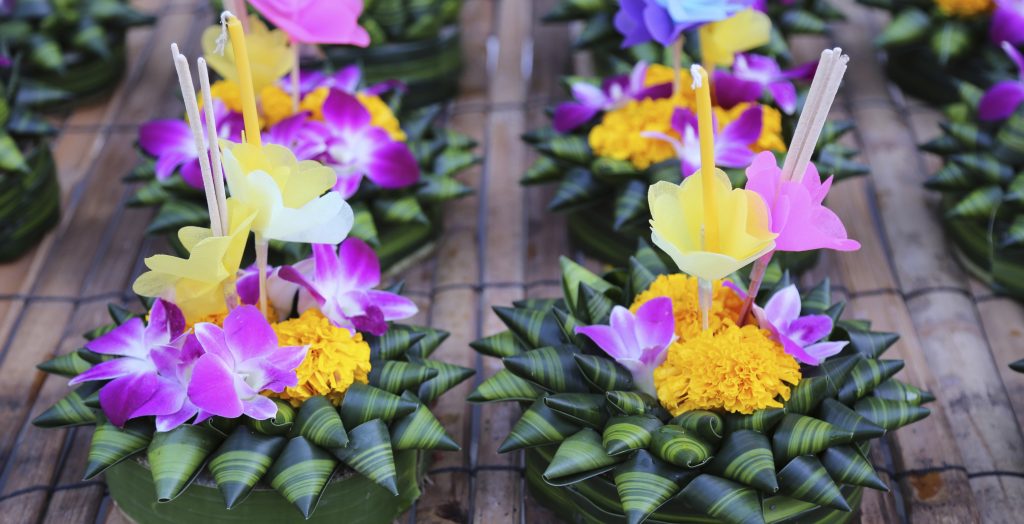 The Loy Krathong festival of lights is one of Thailand's most beautiful and vibrant observances. Every year, local Thai people join together on the evening of the full moon during the 12th lunar month. They fashion small rafts (called krathongs) out of banana leaves, flowers and other natural materials – and then launch them on to a river or waterway.
The krathongs are fitted with joss sticks, candles and in some cases a small coin. This is seen as a way of releasing bad luck, letting go of negative thoughts and looking forward to a brighter future. Upon the passing of His Majesty King Bhumibol Adulyadej, this year's festivities are sure to have a more sombre tone. But at the same time, the tradition of letting go of negative thoughts seems a potent way to end the first 30 days of the mourning period.
Loy Krathong is celebrated all around Thailand – from the metropolis of Bangkok to the southern outpost of Hat Yai and the northern mountains of Chiang Rai. However, this year's full moon occurs on 14 November, which means it falls during the initial mourning period after His Majesty's passing. This means that festivities – while still observed in many places – will be significantly toned down.
Loy Krathong Highlight: Yi Peng in Chiang Mai
Our guests are always eager to know where the best places are for observing Loy Krathong. For those staying around Centre Point Pratunam, there are popular launching places for krathongs along the local canal. Or you could just as easily board the BTS skytrain and head down to the Sala Daeng area for riverside festivities.
But we thought we would take a moment to highlight a festival that's usually held in Northern Thailand. Chiang Mai's version of Loy Krathong (sometimes called the Yi Peng festival) is famous around Thailand – particularly because it includes floating lanterns as well as traditional krathong rafts. Thousands upon thousands of these lanterns fill the night sky and waft along the air currents.
There's usually a mass release of floating lanterns at Mae Jo University when countless floating lanterns rise up together and immediately fill the night sky.
What to Expect from This Year's Loy Krathong
If you are staying at Centre Point Pratunam during this year's Loy Krathong festival, you will still see people launching krathongs on the river and participating in some of the more traditional rites. However, the following types of activities have been called off in most (if not all) places:
Whilst this year's activities are sure to take on a more sombre tone than usual, there is still much to enjoy about the more traditional aspects of this festival. If anything, this year's Loy Krathong is likely to look much more like it did when locals observed the occasion centuries ago.