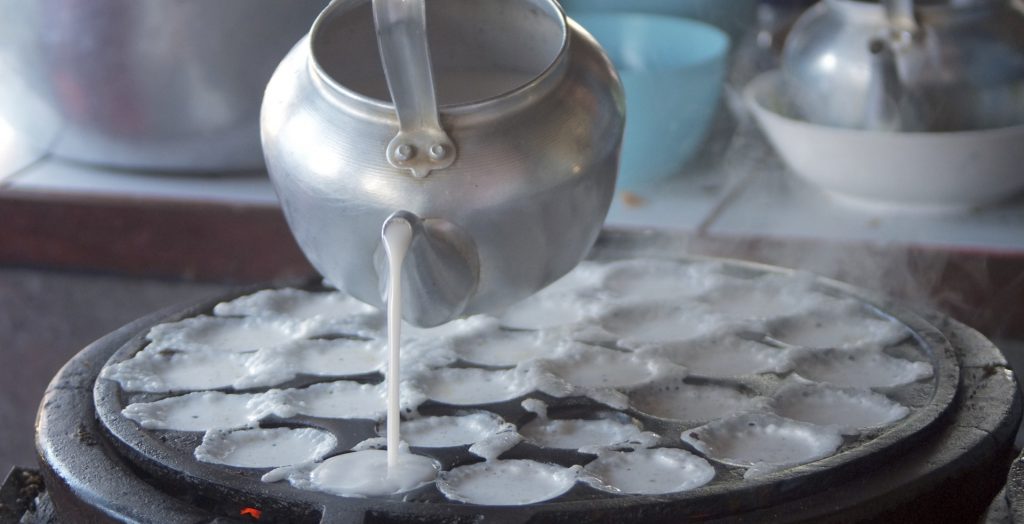 After touring around Bangkok for a couple days and trying the most amazing street food, you must be getting a craving for something sweet, right? Since most of the best Thai dishes are loaded with the hottest spices, it would be nice for a sweet change.
Khanom Krok is one of the easiest dessert street foods to find and it's also the easiest to eat. Unlike ice cream, which can be messy in the heat since it melts extremely fast, Khanom Krok fits in the palm of your hand. It's also a solid cake so you can transport it without worrying about spilling any garnishes or toppings.
Khanom Krok is often referred to as a coconut cake or coconut and rice dumpling. It is made in a large iron skillet that has holes in it. The rich batter that consists of coconut cream, rice flour, tapioca flour, jasmine rice, sugar, and fresh grated coconut is poured into the molds. The Khanom Krok street vendor will wait for a minute before garnishing the cakes with a green onion. Within three to five minutes, the Khanom Krok cakes are ready to be taken off the skillet. The warm pockets of gooey coconut and rice custard are given to the next person in line. It's hard to buy only one, since they're very small and you won't want to split yours.
Usually the vendors offer a box of Khanom Krok cakes for less than $2 USD! They'll usually sell 9 of them for 35 Baht ($1 USD) or 50 Baht ($1.40) This is the perfect dessert or snack to share with your family since you can buy a lot for cheap and share with everyone. Since the Khanom Krok cakes are soft, they are suitable for children of all ages to eat. Even if your three year old still has his or her baby teeth, these pillows of coconut goodness will never get too hard. If you end up ordering more about the first round is gone, don't be surprised since they're that delicious.
Khanom Krok dessert cakes have been a traditional sweet dish of Thailand. They used to make them on an open fire, much like they still do today. Their shape hasn't changed at all, in fact, the shape of the coconut pancakes influence their name. In Thai, Khanom Krok means 'snack mortar.' Since a mortar isn't used in the recipe (a mortar is an ancient ceramic bowl they would crush herbs and pills with), it is said that it describes the bowl shape of the pancakes. It's always neat to see cultural history in foods that are still popular today.
Once you fall in love with Khanom Krok cakes, you'll probably want to learn how to make them. Lucky enough for you, many Thai locals have shared their cherished recipes of this popular dessert online. You can watch how the vendors prepare the batter and how they cook the cakes to perfection. This would be a great dessert to share with the family over a special holiday get together. The one thing many people like and agree about Khanom Krok cakes are that they aren't super sweet. This makes them a true crowd pleaser.
Based on The Real Travelers suggestion, they say that the best places to eat Khanom Krok cakes are at the Train Market Ratchada, the Wang Lang Market, and Siam Pandan. Siam Pandan is located on Soi Chulalongkorn near the MBK Center. Not only is the area packed with entertaining activities such as a movie theater and street vendors, but also one of the big malls in Bangkok. This would be an excellent place to spend the entire day with the family.
If you're looking to save money on transportation and trying to find a hotel close to all the best attractions and street food venues, check out our Centre Point Pratunam location. This location is within a 10 minute ride to the MBK Center and Siam Pandan. Centre Point provides the best rooms for a great price, without cutting corners on comfort and excellent service. Our luxury styled rooms great for families or travelers looking for a great hotel within the best neighborhoods of Bangkok.