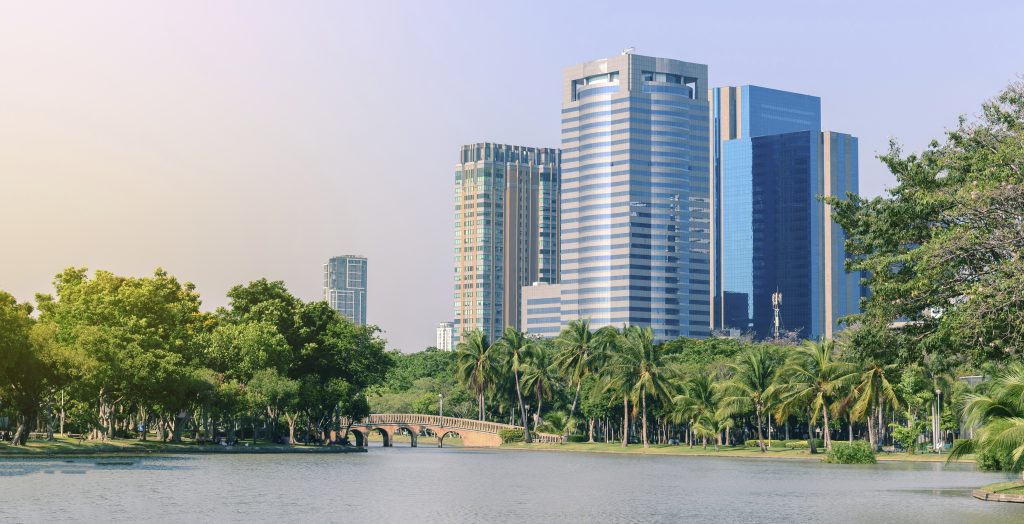 Bangkok is a world-class city with cosmopolitan charm and an endless line-up of activities to enjoy. It also has its fair share of sequestered green spaces. The problem is that visitors and tourists in the city often don't know where to go to enjoy the outdoors, go for a jog or simply get a breath of fresh air.
With that in mind, we're writing this post to let you know where the best park is in relation to our hotel. If you're staying at Centre Point Pratunam, we recommend paying a visit to Chatuchak Park. It's easy to reach from the hotel. All you have to do is board the BTS from Phaya Thai station and then ride a few stops to the end of the line at Mo Chit. From here, the park is just a few steps from the BTS.
Enjoy Bangkok's Largest Contiguous Green Space
The actual plot for Chatuchak Park is lovely and well laid-out. While there is plenty of space available here, the park is less than half of a square kilometre – so it isn't all that large. However, Chatuchak has been joined by the development of two other parks in recent history. Queen Sirikit Park and Wachirabenchatat Park both adjoin it, and the set of these three parks more than double the land area. Taken together, this is the largest contiguous green space in Bangkok.
Chatuchak is a great place to visit for several reasons. For one, it's extremely convenient to reach given its proximity to the BTS. On any given day, you'll find plenty of locals and tourists here admiring the gardens and water features, relaxing in the shade or even kicking a takraw ball back and forth. It's lively here, and it serves as a reminder that living in the city doesn't have to mean giving up on outdoor pursuits.
Chatuchak Park Highlights
There is no single feature that attracts visitors to Chatuchak Park, outside of the sheer convenience of visiting. However, there are many activities that you can enjoy whilst here. We'll list a few of them below:
Explore the botanical gardens
Admire the lotus ponds
Visit the butterfly garden
Rent a paddleboat to go out on the manmade pond
Play football or basketball
Walk on a nature trail
Stop by the mediation centre
Visit the children's museum
These are just a few popular activities at Chatuchak Park, and there are many others beyond this. Feel free to ask our staff for more information.
What to Do After Visiting Chatuchak Park
After you've enjoyed the tranquil gardens at Chatuchak, you may also want to visit the adjoining market. Chatuchak Weekend Market is a hive of activity at the weekend – and you'll find everything from fast fashion to elegant teak furniture for sale here. In the evening, you can also head to JJ Green for a lively night-market experience.
As always, please don't hesitate to contact the front desk if you have any questions about offerings and activities in your area. We'd be delighted to offer advice or to help you arrange transport to Chatuchak Park.