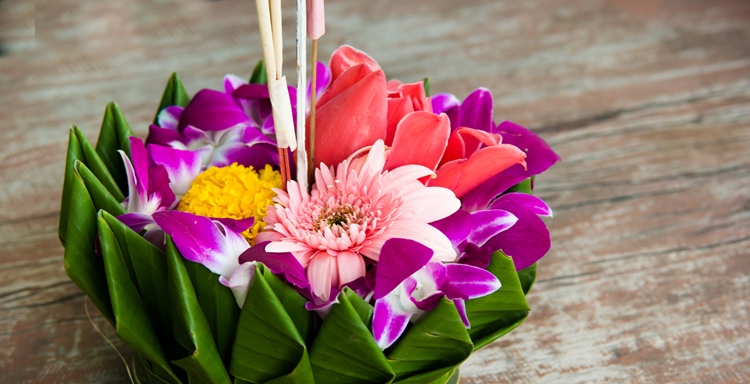 Each year, the citizens of Thailand look forward to celebrating Loi Krathong. Loi Krathong takes place every year on the night of the full moon of the 12th month in the lunar year calendar (which is some time in November). The festival is mostly celebrated in the south western part of Asia, with Thailand being one of the main countries. If you plan on visiting Thailand during the festival, you must not miss out on this magical celebration.
The Meaning of Loi Krathong
Loi Krathong is pretty much translated into "to float a basket." The basket in this case is what a "krathong" is referred as. This can be a vessel made up of various materials. Some people make a paper boat and float it on the water while others make a boat out of banana leaves.
Anything that is water resistant and will help the vessel float for a long time is ideal. The only material that has been recently banned from using has been styrofoam since it takes many years for it to break down and pollutes the waterways.
On the night of the full moon in November, everyone takes their boat out to the water to watch it float and make a wish. It is believed that the Loi Krathong celebration is derived from a ceremony that pays respects to the spirits of the water. Many people put coins or small parcels of food as a gift for the gods.
Where to Celebrate Loi Krathong
Are you in search of the perfect place to join in on this fun celebration in Thailand? Luckily, if you're planning to be in Bangkok on Friday, November 3rd, you will get a chance to join in on the fun. There are tons of places with ponds or access to the city's main river that you won't miss a chance to celebrate your first Loi Krathong.
If you're planning to stay in the Pratunam district, we recommend heading to the Loi Krathong celebration taking place at Lumpini Park. Lumpini Park is a beloved city park in Bangkok. The park provides a nice green space and on a nice sunny day you'll see locals ride their bikes, running, and playing games along the pathway.
There's also a large pond in Lumpini Park, making it a great spot for the Loi Krathong celebration. If you're looking to float your vessel in a smaller place where you can easily spot it out, this is the perfect place.
As mentioned before, there are plenty of places planning to celebrate Loi Krathong, yet Lumpini Park is one of the best. The atmosphere is perfect since you almost feel as though you're outside of the city. If you're looking to observe the locals and to see where they go, you must check out Lumpini Park.
Finding the Best Place to Stay
If you're still trying to find a quality place to stay in the capital city of Bangkok that's close to Lumpini Park and the Loi Krathong festival, you should consider staying in Pratunam. Not only is Pratunam super close to the park, but it's home to some of the best shopping departments and malls.
You'll also get a chance to try many of Bangkok's street food favorites in Pratunam. Everyone thinks Pad Thai is the best dish in Thailand, but wait until you try the famous oyster omelette. Fortunately, Centre Point has five locations, one of them being in Pratunam (and close to Lumpini park). Stay in a comfortable hotel while touring the city and being a part of the lively Loi Krathong celebration.
Have Fun, and Don't Forget to Make a Wish!
We hope you have an excellent time touring Bangkok and a happy Loi Krathong. Just be sure to make a wish as you watch your boat glide smoothly across the water (or sink to the bottom)! Loi Krathong is one of the most cherished celebrations in Thailand and we hope you partake in the fun festivities.