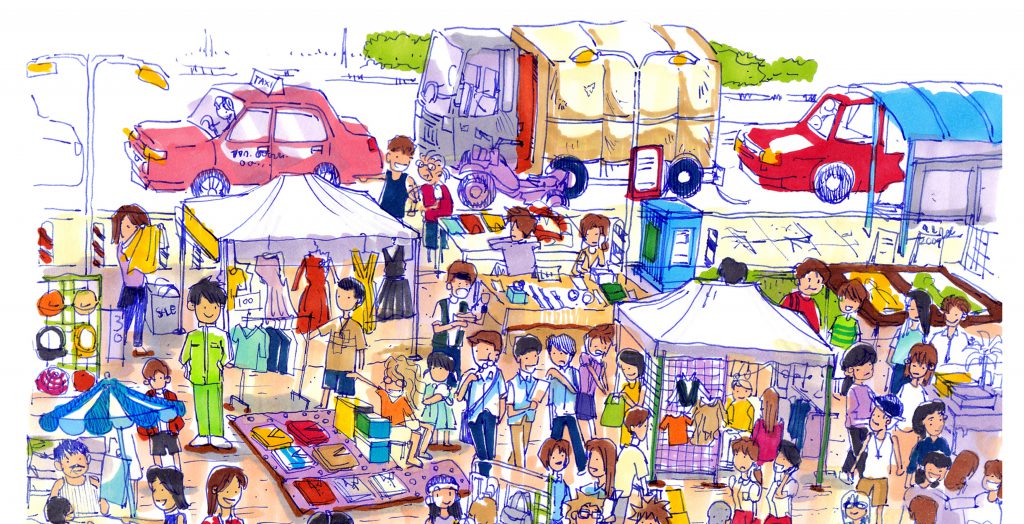 Bangkok is a city known for it's extravagant and inexpensive markets. The Pratunam Market is definitely one you won't want to miss. This market sells every type of clothing such as scarves, dresses, t-shirts, trendy pants, costumes and shoes at a wholesale price.
The market is perfectly located near the Baiyoke Towers I and Baiyoke Tower II in the Pratunam neighborhood. These skyscrapers are iconic to the Pratunam district and are some of Bangkok's tallest towers. There's no surprise as to why Pratunam is known for being a shopaholic district. There are so many malls, storefronts, street vendors, night markets, and open markets, you'll wonder if anyone actually lives nearby!
Locals will be the first to tell you why Pratunam Market is one of the best in Bangkok and how to get there. It's easily spotted since it's located in between Petchaburi Road and Soi Ratchaprarop 3. You'll even see many of the stalls and small shops lined up on the streets, it's a hard market to miss. The busy atmosphere of the shopping frenzy spills out onto the streets. You'll know when you've arrived, and it will be a long while before you leave since there's so much to see!
The pathways into the market are crowded with shoppers and movers. There's always someone carrying boxes or a trolley cart of newly sent goods. If you take a moment to listen and observe, you'll see how the Bangkokians barter and haggle for the best bargain. Shopping at Pratunam Market is a great way to get a glimpse of the local life and shopping culture in Bangkok.
When I mentioned that you can find any type of clothing at this expansive market, I truly meant it. From everyday casual wear to going out on the town. You might even see designer labels, but you probably won't be fooled because you'll be able to tell they're only copies.
Looking for new yoga pants? Wanting some stylish sandals? Shopping for a friend's birthday? All your shopping desires will be answered at Pratunam Market for a very small price. Although you can haggle with the vendors and try to get them to lower their prices, you'll be surprised that you won't often need to. Prices are already so low, you'll have a hard time limiting your purchases.
If you love wearing costumes or dressing up in a flashy outfit, you will fall in love with this market. There's a section in Pratunam Market that's solely dedicated to funky costumes and fun dress-up clothes. The closer you get to Petchaburi street, the closer you'll be to sequins decorated outfits, beaded costumes, and snazzy prints.
If you're hunting for a glamorous dress or a custom made suit, you're certainly in luck. The best part about Pratunam Market are the seamstress owned shops. After taking your measurements, you are guaranteed a custom made outfit ready for pick-up by next day. It will even cost half the price of a tailored suit you would get in any other country. The quality is outstanding too.
After shopping and people watching, you'll be hungry and ready to take a break. One of the best features of Pratunam Market is the street food selection and the food market section. There's a food market tent where many food vendors sell their delicious home cooked Thai food to locals and visitors.
There are so many vendors and food stalls you'll want to try everything! You can find a teriyaki-glazed chicken on a stick, vegetarian favorites, the famous Thai curry, and sweet gelatinous treats. Don't forget to buy a cup of sweet palm sugar juice for 30 Baht, which is less than $1 US dollar!
You can visit the Pratunam Market anytime since it's open 24 hours, 7 days a week. This is very convenient since it has everything you'll need during your stay in Bangkok. It is important to note, however, that most retail stores are open from 10:00am-9:00pm.
If you're planning a trip to Bangkok, you'll want to stay somewhere close to this lively plaza. Luckily, we have a room available for you at our Centre Point Pratunam location. It's not only five-minutes walking distance to the Pratunam Market, but it's just across the street from the Platinum Mall and Pantip IT Plaza. Your trip will make a significant difference having this amazing local market nearby. We hope to accommodate you during your fun adventure and shopping extravaganza.