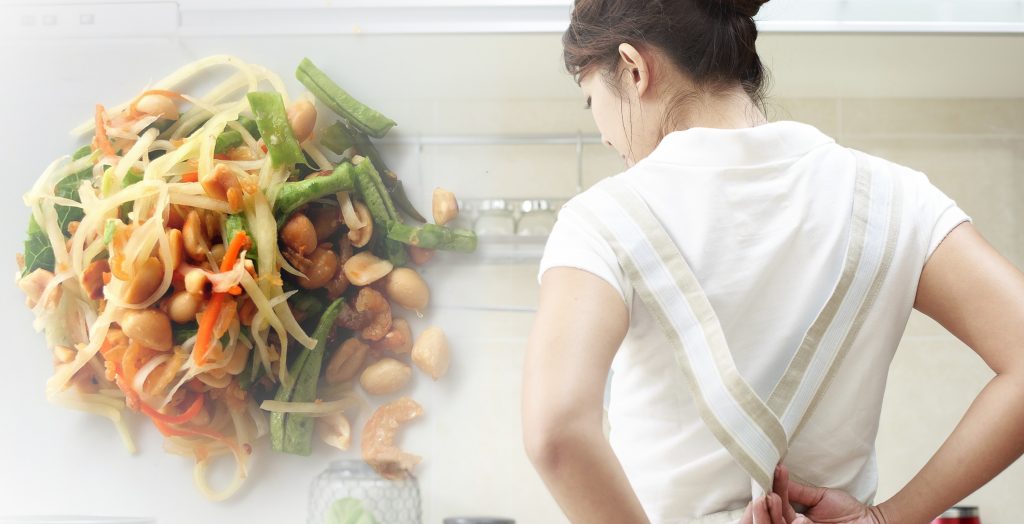 Spicy, sour and refreshingly crunchy, som tam is a signature Thai dish that's unlike just about anything else in the world. It's certainly a favourite in Thailand – particularly amongst women (though men certainly enjoy it, too). When you're out exploring in Bangkok, you'll often see groups of three or four women sharing conversation over a plate of som tam at popular food stalls. It's a decidedly social dish.
Not everyone likes som tam – but those who do absolutely love it. For anyone who falls in love with the dish and wants to try to make it once they've returned home, there's a catch. You may have difficulty finding the main ingredient: green papaya.
If you're unable to find green papaya at your local grocer, don't despair. There are plenty of substitutes that will still provide this Thai salad's signature crunch. We've heard of people using anything from radishes or carrots to raw swede.
So if you stay with Centre Point Pratunam and ended up falling in love with som tam, try this recipe out when you're back home and in the mood to reminisce.
Som Tam Ingredients (serves 1-2)
1 cup of thinly sliced or grated green papaya
½ cup of sliced or grated carrots
2 tablespoons of fish sauce
1 tablespoon of palm sugar
1 Roma tomato (medium sized, cut into wedges)
2 teaspoons of tamarind juice
1 tablespoon of lemon Juice
2 tablespoons of dried shrimps
2 tablespoons of crushed peanuts
2 fresh red chillies
2 fresh green chillies
3 cloves of garlic
½ cup of snapped green beans
How to Make Som Tam
Before we begin, here's a word on preparing your papaya: It's important to create long, crunchy strips of papaya – as this creates the texture base from the salad. The traditional way to do this is to use a kitchen knife to peel the papaya, and then slice those bits of peel into thinner slivers. But you can save time without sacrificing too much texture by using a julienne peeler. The trade-off is that you'll end up with uniform strips of papaya, which some would say makes it not 'true' som tam.
You'll need a mortar and pestle to create this delicious Thai snack. Place the chilli, garlic and 1 tablespoon of the sliced papaya into the mortar, and use the pestle to mash them finely together. Adding that bit of papaya now helps keep the chilli from splashing into your eyes.
Next, add the green beans and continue mashing with the pestle, but don't grind as finely as you did with the initial mixture. Add in the palm sugar and tomato wedges and continue to mix. Follow this with the remainder of the papaya as well as the carrot, fish sauce, lemon juice and tamarind juice. Use the pestle to mix and combine.
Finally, add the dried shrimp and peanuts. Mix roughly and serve with your choice of fresh vegetables, such as cabbage, long green beans and green leafy vegetables such as Thai morning glory. In Thailand, some people also eat som tam with a side of rice noodles (khanom chin).